31 Aug

Get Ready For A Gas Explosion

The wider community has yet to take notice of the crisis enveloping the Australian domestic gas industry, but they soon will when their bills keep going up. Gas was once widely considered the cheaper energy option, but this perception could well be in line for some realignment due to a series of events that are drastically reshaping the energy landscape.

For years the gas market in the Eastern Australian network was quiet and predictable. The conventional fields in the Cooper Basin and Bass Strait fed the pipeline network and demand moved in line with population and economic activity. Things changed with the decision to begin exporting gas from the network. Three LNG export terminals where approved to be constructed at Gladstone in Queensland. Because these terminals are massive undertakings and require billions of investment dollars to be sunk before they generate their first dollar of revenue, the investors required some certainty before risking such enormous sums of money. The response was to sign long term supply contracts with customers in Asia, for fixed volumes of gas at set prices. These anchor clients provided the security the energy companies needed to invest by agreeing to buy gas for decades to come.

The initial plan of the energy companies was to source the gas to feed these new export markets from coal seam gas (CSG) projects that they were developing concurrently with the export facilities. However when opposition to CSG projects materialised from farmers, environmental groups and certain political elements, the bulk of the projects were either stalled or cancelled. This deprived the gas exporters of product to sell, but the contracts still need to be honoured. This has the exporters buying up all the gas volume they can from the East Coast network in order to fulfil their contract obligations which is leaving domestic consumers fighting over what's left. Hence domestic gas prices are rising as the large industrial users are having to renegotiate prices as their contracts gradually expire. Small retail users are going to feel the pain too. To the point that domestic gas consumers are paying prices well above the global average because the volumes available are so inadequate.

Victorian gas market average daily weighted prices by quarter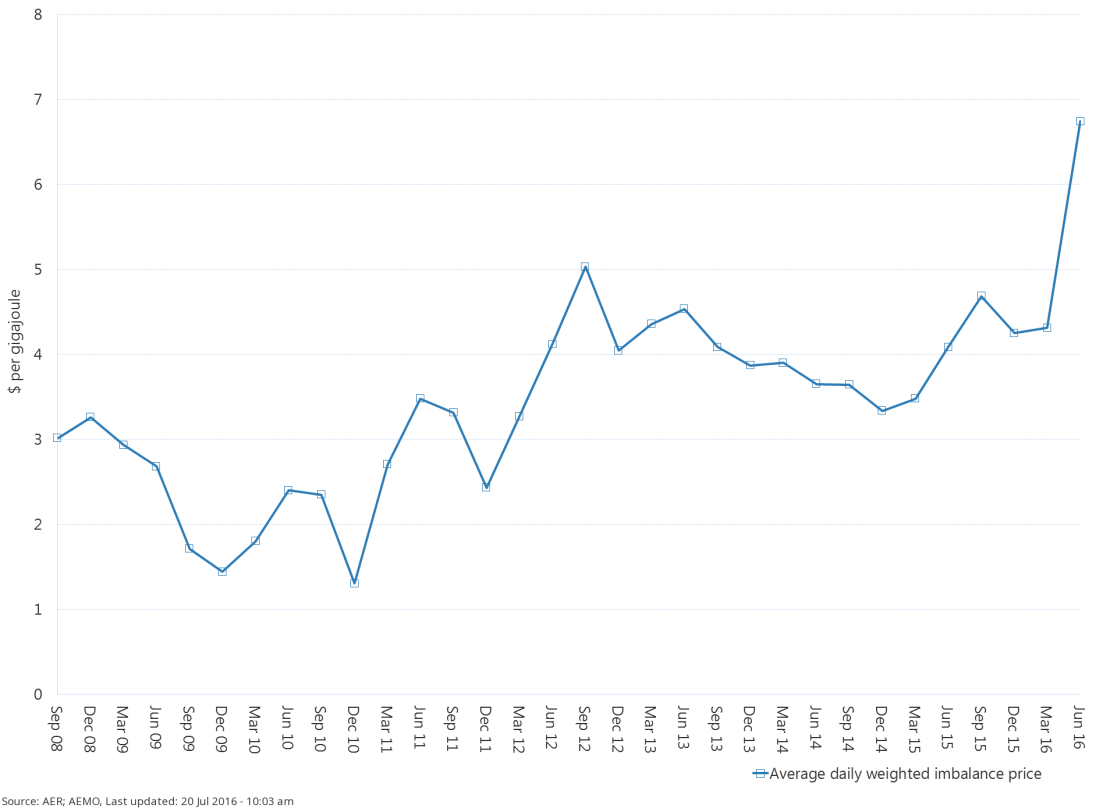 This is having a knock-on impact across the economy, major industrial gas users are going to be hit the hardest, and these are industries which are already struggling such as manufacturing. It is already having an impact. Coogee Energy for example was going to build a billion dollar methanol plant, but it will now be built in the USA rather than Australia due to the difference in gas prices. Gas price hikes have also been partially blamed for South Australia's recent energy crisis as South Australia is far more reliant on gas fired power generation than other states.
If the elevated prices are sustained, and there continues to be knock-on effects through the economy then the gas retailers can expect some very disgruntled customers in both the residential and industrial sectors. There is also the possibility of a hostile media directing blame towards the gas industry if major industrial firms dependent on large volumes of gas start to close down and result in job losses. The economy is already fragile and job losses caused by (predominantly foreign owned) gas exporters could easily become a whipping boy for politicians looking to score points in a populist climate.
What's worse is that only 4 of the total 6 gas trains are active at the Gladstone export facilities. For now the operators have left them idle, but they will either eventually put them to work, or have to accept the loss involved with constructing the trains but never using them. So there is every possibility that export volumes could increase further.
There is little possibility of relief in the short term. CSG projects are unlikely to become any less contentious. It is highly likely that protests, court cases and political intervention will continue to follow the projects for the foreseeable future. The export terminals are not going to be shut down, the owners have sunk billions of investment dollars into them and are going to want a return. Neither are the Asian buyers likely to renegotiate their contracts for lower volumes, they agreed to buy the gas because they need it.
Longer term, there are some possibilities for additional supply. A pipeline connecting the NT offshore gas fields with the East Coast network via Mt Isa has been given the go-ahead; construction is due for completion in 2018. Another possibility being floated is the construction of a pipeline linking gas fields in PNG with the Australian network.
These initiatives (even if they come to fruition) are years from completion, the price spike is not. The pain for gas consumers is real and happening now; and the backlash towards gas retailers will not be long behind.
So what does all this mean for retailers?
Retailers need to be prepared with a response as to how they are going to deal with disgruntled customers, otherwise they could find people seeking alternative energy sources like solar PV and battery units and potentially lose the customers for good.
Get in touch with us today for an initial discussion to see how newfocus can assist your organisation with retention and acquisition strategies to ensure you stay ahead of the game in what is a tough competitive landscape.
newfocus is a national market research company, specialising in strategic market research and social research, with offices in Melbourne, Sydney & Adelaide.